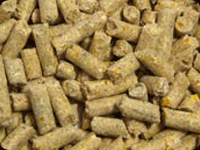 Soya meal is one of the valuable soya seed products, which uses as forage because it is a rich source of protein (%44-49). This material provides the main protein for milky cows especially in winter, it also uses as food source for fishes and domestic animals. This product protein holds high attraction power, it is rich in lysine, tryptophan, threonine, isolosine, and valine, however, the amount of methionine and cysteine is low.
The following table shows the composition and usage of soya meal: the necessary amino acids composition of soya meal with %44 protein.


The following table shows soya meal produced by GOLBAHAR SEPAHAN Company, which is in correspondence with national standard number: 800.